South Side Mission Shelter for Women and Children
Address
1127 S Laramie St
Peoria, IL - 61605

The New Promise Center is a housing, social service, and spiritual enhancement ministry of South Side Mission for homeless women and women with children.

Typically, people come to us for two reasons:
A housing crisis could be caused by domestic violence, eviction, natural disaster, stranded, or loss of income or relationship.

An intentional need could be sought due to Department of Correction re-location, pre-treatment or post-treatment of drug/alcohol treatment, and restoration of family relationships.

The New Promise Center cares for these precious ladies and children through a structured program of progression, which can last up to 12 months. Each client has a case manager who assists her through up to four phases of residential care:
Making a Change
Living the Change
Securing the Change
Experiencing the Change

Clients should be pre-screened by telephone before intake, but walk-ins are welcomed. Proof of identification is required. Intake hours are Monday through Friday from 10:00 a.m. to noon, and 7:00-9:00 p.m. The client must be able to physically care for herself (and her children) and participate in the daily required activities.

The New Promise Center is inappropriate for persons who need assisted living, have severe or unattended psychological and medical needs, and active drug/alcohol use.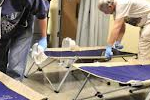 Monday

10:00 AM - 7:00 PM

Tuesday

10:00 AM - 7:00 PM

Wednesday

10:00 AM - 7:00 PM

Thursday

10:00 AM - 7:00 PM

Friday

10:00 AM - 7:00 PM

Saturday

closed

Sunday

closed