The Bridge Emergency Shelter
Address
24 N Chestnut St,
Cortez, CO - 81321

How We Can Help:
If you are an adult in need, come in and get warm. Our doors are open from 6:00 pm to 8:00 am. We will have a hot meal and a warm bed waiting for you. We also have showers, laundry facilities and personal hygiene supplies.

We do not serve families.

Open every day
October 19, 2020 April 30, 2021
6:00 p.m. 8:00 a.m.
Office and Donation Hours:
Monday Thursday
10:00 a.m. 5:00 p.m.
Transitional Housing
The Bridge facility offers 12 transitional apartments, one of which is ADA compliant. These apartments are meant to house formerly homeless adults and most get into the apartment units after staying in the shelter for a period of time. A verifiable income source is needed to live in the apartments. While costs vary according to income, the costs per person are very affordable. Many persons will pay under $200 a month for a furnished apartment.
Apartments are shared and each person gets an individual lease for 6 months, which is renewable as long as they are compliant with expectations. No one gets to live permanently in transitional housing. Renters are encouraged to start looking beyond the Bridge from the time that they enter transitional housing.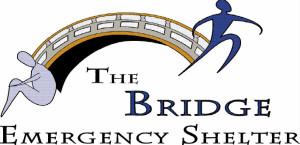 Monday

6:00 AM -8:00 PM

Tuesday

6:00 AM - 8:00 PM

Wednesday

6:00 AM - 8:00 PM

Thursday

6:00 AM -8:00 PM

Friday

6:00 AM - 8:00 PM

Saturday

closed

Sunday

closed