St Francis Center
Address
2323 Curtis St
Denver, CO - 80205

St. Francis Center is a refuge for men and women who are homeless in the metro Denver area, providing shelter along with services that enable people to meet their basic needs for daily survival and to transition out of homelessness.

On an average day, over 700 different people visit St. Francis Center, and on a busy day, over 900 people may pass through our doors.

We welcome and treat everyone with dignity and respect, offering a safe and inviting place to stay during the day when other shelters are unavailable.

Hours of Operation
Center Hours
Temporary Hours: Monday Sunday 7:00 am to 3:00 pm

Day Services
Basic Services
We provide multiple services that enable men and women who are homeless to meet basic needs for day-to-day survival. These services include separate showers for men and women; haircuts; an opportunity to earn new or cleaner clothes by helping with chores at SFC; storage for one bag of belongings; access to phones for local calls; and use of St. Francis Centers mailing address and phone number to receive mail, stay in touch with family, or search for a job or housing.

Health Services
Our health clinic has expanded its services with a new collaboration between Stout Street Clinic and St. Francis Center. The Collaboration offers both doctors and nurses, greater drug prescription coverage, psychiatric services, and longer hours of service.

Social Services
Offering a listening ear and providing information to individuals who are experiencing homelessness, St. Francis Center social services enables clients to speak with staff one on one regarding their concerns and issues. Additionally, the distribution of RTD bus fare, navigating the application process for benefits and housing, referring clients to obtain mental and physical health care, assisting with long distant phone calls and helping with budgeting comprise much of the assistance given in this office.

Adjunct Services
Additional services are offered through a collaborative effort between members of the wider community and St. Francis Center to bring expanded health services, mental health services, veterans' assistance and wholesome meals to the day facility on designated days during the week.

Housing Program
St. Francis Center Housing Program provides permanent housing and case management for participants who are ready to move to a more structured environment.
SFC case managers help ensure a successful outcome by providing assistance with setting goals, obtaining financial benefits, stabilizing physical, mental health and substance abuse concerns, and by encouraging participants to develop their life skills by pursuing opportunities for enrichment through continuing education, recreational activities, volunteerism and meaningful work.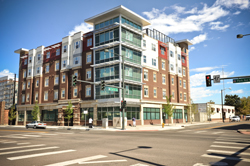 Monday

7:00 AM - 3:00 PM

Tuesday

7:00 AM - 3:00 PM

Wednesday

7:00 AM - 3:00 PM

Thursday

7:00 AM - 3:00 PM

Friday

7:00 AM - 3:00 PM

Saturday

7:00 AM - 3:00 PM

Sunday

7:00 AM - 3:00 PM