Shepherd's Gate - Brentwood
Address
605 Sycamore Dr
Brentwood, CA - 94513

We have provided Christ-centered services and housing to over 11,000 battered and homeless women and children.

Office Hours: Monday - Thursday 9:30am- 4:30pm

Here is just a partial list of our services

Shelter
Our campuses in Livermore and Brentwood reflect our belief that a welcoming, home-like environment helps women and children feel loved and secure as they heal. New residents often say they had no idea a shelter could be so beautiful!
We are also unique because we allow women to bring their children with them to Shepherd's Gate. Keeping moms and their kids together provides stability for the children and allows mothers to focus fully on their recovery.

Nutrition & Medical Care
Our women and children enjoy 3 warm, nutritious meals each day. Women also have access to cooking classes and exercise programs.
Each of our residents also receive medical services and case managers help coordinate medical care when necessary.

Counseling
Many of our residents have endured unspeakable trauma in their life. To aid their healing, women and children often receive professional counseling in a group or individual setting.

Recovery & Life Skills Courses
Our classes support women as they learn how to face life's challenges in a healthy way. Women who participate in our long-term program work their way through a 12-step course designed to help them break free of the cycles that led them here.
We also offer classes on basic life skills, parenting, anger management and conflict resolution, personal boundaries, finances, cooking, household management " and the list goes on!

Bible Study
When women begin to understand God's love and grace toward them, amazing things start to happen in their lives. Bible studies take place on our campuses 7 days a week.

Education, Job Training, Job Placement
Our goal is for women to be self-sufficient when they leave Shepherd's Gate, but many of them lack basic education and/or job skills they need to support their families.
That's why we strive to help women grow their skills. Whether it's earning a GED, attending community or technical college, training at our Thrift Store, looking for positions, or preparing for their first real job interview " women gain access to a wide variety of practical tools and support from caring staff.

New Mothers
We provide everything babies and moms need to get off to a healthy, loving start. Our case managers help coordinate prenatal care, including transportation to appointments. When the baby arrives, we provide newborn care classes, diapers, clothing, blankets, formula, lactation support, childcare, and transportation to well-child checks. Babies are well-loved here!
Volunteering
Our hope is that women leave Shepherd's Gate equipped to reach out to others in need " so we provide opportunities to serve locally in volunteer roles.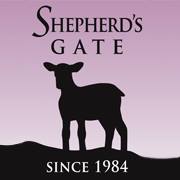 Monday

9:30 AM - 4:30 PM

Tuesday

9:30 AM - 4:30 PM

Wednesday

9:30 AM - 4:30 PM

Thursday

9:30 AM - 4:30 PM

Friday

closed

Saturday

closed

Sunday

closed