HomeFirst Program San Jose
Address
2011 Little Orchard St
San Jose, CA - 95125

The Boccardo Reception Center (BRC) is the largest homeless service center, serving 250 adults every night. It provides shelter and transitional housing, as well as other critical services such as job search and placement, mental health services, a medical clinic, case management, legal assistance, and housing search assistance.
BRC Hours of Operation:
Open 24 hours a day, seven days a week

People Served
Adult men and women who are homeless and not accompanied by minor children may obtain nightly shelter.

Services Provided
Upon arrival, clients are provided with a bed and receive two meals plus showers and toiletries. First-time clients are guaranteed to receive shelter services for a night and are encouraged to attend an orientation. Longer stays and further services are provided to clients who are eligible for any of the programs operated at the shelter.

Food Service: Clients who stay the night at the BRC are provided two nutritious meals. Clients that are enrolled in BRC's programs are provided three meals a day.

Medical Services: Through a partnership with the Valley Homeless Healthcare Program, medical services are available to all BRC clients. The medical clinic is operated onsite and provides basic screening, primary care, dental care, immunization, referrals, and follow-up.

Laundry Services: Clients may use washers and dryers to clean their clothing free of charge. Laundry soap is also provided.

Transportation: A 16 passenger van and a shuttle bus assist clients with their transit needs. The BRC also utilizes the county's Homeless Transit Pass Project to provide clients with monthly transit passes and bus tokens.

Programs and Case Management: All clients who are eligible to participate in programs have the opportunity to receive case management services including advocacy, referrals to permanent housing, benefits assistance, financial management, and more.

Additional Programs Offered:
Supportive Services
Veterans Program
Clinical Services

Contact the office for further information.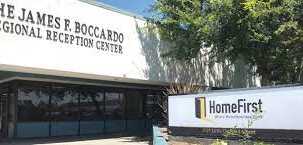 Monday

9:00 AM - 5:00 PM

Tuesday

9:00 AM - 5:00 PM

Wednesday

9:00 AM - 5:00 PM

Thursday

9:00 AM - 5:00 PM

Friday

9:00 AM - 5:00 PM

Saturday

closed

Sunday

closed