House of Hope Rescue Mission
Address
505 E. Emma Ave
Springdale, AR - 72764

DAY CENTER
Hours of Operation: Wednesdays and Fridays from 9:00 a.m. to 2:00 p.m.
A homemade hot meal is served at lunch on those 2 days.
Coffee, water and snacks are available throughout the day.
Volunteers can assist clients with job applications, interview process, and clothing for the interview.
Shower Facilities
Washers and dryers for laundry service once a week.
A food pantry where clients may receive groceries once a month.
A clothing room where clients may receive clothing monthly or as needed.
Computers are available for clients to use, with assistance, for job hunting.
A room for children and their parents to read and play.
There is a chapel for worship and meditation.
There is regular Bible teaching, worship and reading of the scriptures.
Private one-on-one prayer and life coaching is available.
Mail Services
Referrals when needed, to other helping hands agencies in the community.

The House of Hope Rescue Mission is a day center for the homeless and needy in Northwest Arkansas, serving 300-400 clients weekly. We are currently open on Wednesdays and Fridays. Individuals and families can come in to get out of the heat or cold, have a hot meal, snacks and water. We provide showers and laundry facilities, a food pantry and clothing room, and help with jobs and life skills, as well as phone and mail services.

WHO MAY COME? All people are welcome regardless of age, race, gender, or religious beliefs. All are accepted in a loving, kind environment. There are guidelines and rules to follow to make it a safe, happy place for all who enter our doors!

WHAT CAN YOU DO? If you are interested in helping with any of the above activities, go to our volunteer page and sign up! You can also find out about volunteer opportunities on that page. Thank you for your interest! Church members may also sign up to volunteer at the table at the back of our worship center!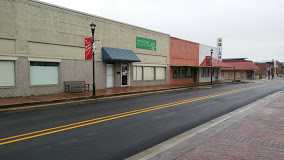 Monday

closed

Tuesday

closed

Wednesday

9:00 AM - 2:00 PM

Thursday

closed

Friday

9:00 AM - 2:00 PM

Saturday

closed

Sunday

closed