The Studio Shelter and Services
Address
1001 Oakwood Avenue
Huntsville, AL - 35801

Provides services to transient, homeless, or traveling youths aged about 12 to 21. Services include access to shelter, showers, laundry, food, clothing, phone/email, dental/medical referrals, "street survival" kits, job training and referral, and tutoring/mentoring to help clients improve living skills and school performance.

Full list of services: Case/Care Management for Youth, Homeless Drop In Centers for Youth, Homeless Shelter for Youth, Runaway/Youth Shelters, Street Outreach Programs for Youth.

Hours: M-F,10AM - 8PM

Walk in or call for an appointment.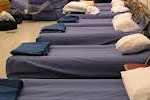 Monday

9:00 AM - 5:00 PM

Tuesday

9:00 AM - 5:00 PM

Wednesday

9:00 AM - 5:00 PM

Thursday

9:00 AM - 5:00 PM

Friday

9:00 AM - 5:00 PM

Saturday

closed

Sunday

closed