Salvation Army Montgomery
Address
900 Maxwell Boulevard
Montgomery, AL - 36104

The Salvation Army Montgomery services include transient and homeless services, food, clothing, and shelter for those in need, lunchtime feeding program, and the distribution of FEMA funds for utilities and rent WHEN AVAILABLE. They also give emergency furniture to victims of fire, flood, disaster, etc. Must have a referral letter to receive furniture voucher.

Eligibility: Homeless services available to anyone in need. For rent assistance, client must be employed.


Hours:

Office Hours: 8:00 am-3:00 pm (Closed 12:00 pm-1:00 pm), Mon-Fri; Shelter Hours: Check-in at 4:30 pm, Mon-Sun (line can form as early as 3:00 pm); Food Pantry: 9:00 am-11:00 am, Mon and Wed

Shelter: Check-in at 4:30pm each day, Check-out at 7:00am each day, Food Pantry and Soup Kitchen: Call For Details or Walk In To Apply
Program Fees: Clients can stay for up to 14 days free of charge.
Full list of services provided at the Salvation Army Montgomery: Fans/Air Conditioners, Homeless Shelter for Families, Homeless Shelter for Men, Homeless Shelter for Single Fathers, Homeless Shelter for Single Mothers, Homeless Shelter for Women, Rent Payment Assistance, Soup Kitchens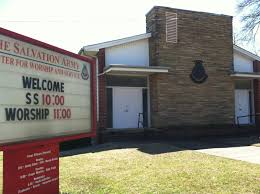 Monday

9:00 AM - 5:00 PM

Tuesday

9:00 AM - 5:00 PM

Wednesday

9:00 AM - 5:00 PM

Thursday

9:00 AM - 5:00 PM

Friday

9:00 AM - 5:00 PM

Saturday

closed

Sunday

closed