St. Boniface Church
Address
3545 W 54th St.
Cleveland, OH - 44102

St. Boniface Church is a food pantry. Serves Must live in the following area within the 44102 Zip code: East: up to W 46th St., West: up to W. 71st St., South: up to train tracks south of Denison Ave., North: up to Train Ave. Can receive assistance once every 30 days. Must be in need will be determined at intake). Documentation Required: Photo I.D., Proof of Address/Residency, Proof of Need such as Medicaid Card, Proof of Income etc.

Food pantry service hours: 2nd Thursday of the month: 9:30am-12:30pm, 3rd and 4th Thursdays of the month hours vary). During November and December the pantry will operate on the 2nd and 3rd Thursdays of the month: 9:30am-12:30pm.. .

* Make sure you check by calling the food pantry to confirm that they still are in operation and the hours have not changed.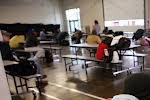 Monday

closed

Tuesday

closed

Wednesday

closed

Thursday

9:30 AM - 12:30 PM

Friday

closed

Saturday

closed

Sunday

closed