Second Ebenezer Missionary Baptist Church
Address
1881 E 71st St.
Cleveland, OH - 44103

Second Ebenezer Missionary Baptist Church is a food pantry. Serves Residents of Cuyahoga County. In addition, clients must have an income that follows the guidelines of The Emergency Food Assistance Program TEFAP). TEFAP guidelines are based on 150% 1.5 times) of the Federal Poverty Guidelines that were in effect on the previous Oct. 1st. Documentation Required: Social security card, medical card or Photo I.D. for everyone in the family as proof of family size) and proof of income check stub, etc.) People picking up food for a disabled person must bring that person's identification with them.

Food pantry service hours: 2nd and 4th Saturday of every month: 10am-12pm. Also closed during month of July every year).. .

* Make sure you check by calling the food pantry to confirm that they still are in operation and the hours have not changed.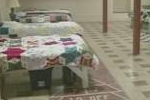 Saturday

Monday closed Tuesday closed Wednesday closed Thursday closed Friday closed 10:00 AM - 12:00 PM

Sunday

closed