Bainbridge Area Food For Friends
Address
17826 Chillicothe Rd.
Chagrin Falls Twp., OH - 44023

The Bainbridge Area Food for Friends is our community food pantry cosponsored by the Bainbridge Civic Club and the The Spirit of Bainbridge. Many local groups support the pantry by collecting food and funds. The pantry assists families who do not qualify for government or other assistance but are in need. The pantry is staffed by energetic volunteers as required.

Food for Friends has arranged for drop off locations of non-perishable foods, toiletries and cleaning items at the Bainbridge library, First National Bank in Bainbridge, Sunrise Springs Water Company in Newbury, Country Curtains in Solon, as well as the pantry location at Bainbridge Town Hall, or during the Thanksgiving and Christmas seasons, at Lowe's Greenhouse. Cash contributions may be directed to the Bainbridge Area Food For Friends account at PNC Bank in Bainbridge or sent to the pantry. Cash donations are used to purchase meat and other perishable items. For further information on how to contribute to the pantry or request help for a needy individual, call the pantry as follows.


Pantry message machine 708-9829.


Food pantry service hours:
By appointment..
Tuesday through Friday 9:00 a.m. to 11:30 a.m.
Please call ahead for an appointment

* Make sure you check by calling the food pantry to confirm that they still are in operation and the hours have not changed.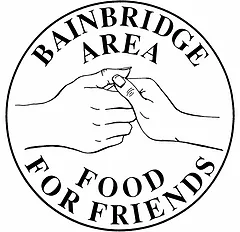 Monday

9:00 AM - 5:00 PM

Tuesday

9:00 AM - 5:00 PM

Wednesday

9:00 AM - 5:00 PM

Thursday

9:00 AM - 5:00 PM

Friday

9:00 AM - 5:00 PM

Saturday

closed

Sunday

closed