Rosies Place Pantry
Address
889 Harrison Ave.
Boston, MA - 02118

Food pantry hours:
Tuesday-Friday: 9am-12pm (80 guests max)
Monday-Friday: 4:30-6:30pm (40 guests max)
Volunteers are also needed to help guests select groceries and perform other duties.
An average of 1,900 women visit Rosie's Place Groceries each month and leave with 20-40 pounds of healthy food for their families. While many pantries distribute pre-bagged groceries, our guests "shop" free of charge among shelves set up like a grocery store, choosing which items they would like from juices, grains, canned goods and more. And thanks to relationships we have developed with local farms, we can also offer women a wide selection of seasonal, nutritious fresh fruits and vegetables year round.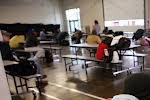 Monday

closed

Tuesday

9:00 AM - 2:00 PM

Wednesday

9:00 AM - 2:00 PM

Thursday

9:00 AM - 2:00 PM

Friday

9:00 AM - 2:00 PM

Saturday

closed

Sunday

closed