Salvation Army, The Central Kentucky Area Services
Address
736 West Main Street
Lexington, KY - 40508

Food Pantry / Clothing Bank


Emergency assistance given includes:

Food pantry
Clothing
Prescription drugs
Personal care kits
Diapers
Household items
School supplies
Networking with other agencies

Fayette County residents can apply for emergency food assistance. This process requires an interview to determine eligibility as well as identification, a rent receipt, Social Security card and verification of income.

The food pantry is open Monday through Friday from 9:00 a.m. - 11:00 a.m.

The Bread Bank provides free bread and baked goods five days a week as they are made available to us.

Clothing is available free of charge through public donations.

The clothing bank is open Monday through Friday 9:00 a.m. - 11:45 a.m.

* Make sure you check by calling the food pantry to confirm that they still are in operation and the hours have not changed.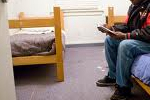 Monday

9:00 AM - 5:00 PM

Tuesday

9:00 AM - 5:00 PM

Wednesday

9:00 AM - 5:00 PM

Thursday

9:00 AM - 5:00 PM

Friday

9:00 AM - 5:00 PM

Saturday

closed

Sunday

closed