Impact Center Pantry
Address
381 N Bluff Road
Greenwood, IN - 46142

The IMPACT Center is open every Thursday and Saturday of each month unless otherwise noted due to weather or holiday rescheduling. Households may receive food one time per week and clothing one time per month. Please allow up to 2 hours per visit. In order to receive assistance you must be present at member sign-in. If you miss sign-in, you will be asked to come back during the next member sign-in time.

You do not have to be a resident of Johnson County to receive assistance. The IMPACT Center is not zip code specific. If you have a genuine need and provide the required documentation, you may receive assistance. In order to receive assistance, a picture ID for every adult living in household is required.
Acceptable documentations are:

A valid driver's license
A copy is acceptable for adults not attending in person.
Two pieces of mail for every adult living in the household. Mail should show current address.
Birth certificate or Social Security Card for every dependent under age 18

Member Sign-In Times:

Thursdays: 9:15–9:40am, 12:15–12:40pm and 6:15–6:40pm
Saturdays: 9:15–9:40am

We are located at 381 N. Bluff Rd., Greenwood, IN 46142. This is the same address as Mount Pleasant Christian Church. The ministry center building is in the south end of the church parking lot. Parking is located in the front of the building. Please do not arrive more than 15 minutes prior to member service time.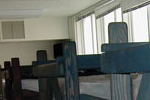 Monday

9:00 AM - 5:00 PM

Tuesday

9:00 AM - 5:00 PM

Wednesday

9:00 AM - 5:00 PM

Thursday

9:00 AM - 5:00 PM

Friday

9:00 AM - 5:00 PM

Saturday

closed

Sunday

closed