Pantry of Broward
Address
610 NW 3rd Avenue
Fort Lauderdale, FL - 33311

Pantry of Broward, Inc., The is a food pantry. Serves Broward residents age 60 and over, on a fixed income of less than approximately $800 a month, and economically challenged grandparents who are the principal care providers for their grandchildren. Documentation Required: Social Security Benefits Letter, proof of any other income and and Government ID, copies of monthly bills (FPL, phone, rent, etc.), proof of Food Stamp Application (if applicable)

Food pantry service hours: Mondays through Fridays 9am - 4pm.

* Make sure you check by calling the food pantry to confirm that they still are in operation and the hours have not changed.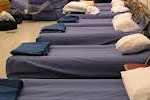 Monday

9:00 AM - 5:00 PM

Tuesday

9:00 AM - 5:00 PM

Wednesday

9:00 AM - 5:00 PM

Thursday

9:00 AM - 5:00 PM

Friday

9:00 AM - 5:00 PM

Saturday

closed

Sunday

closed